Table of Contents
The great Aussie Burger in the Canberra/Queanbeyan Region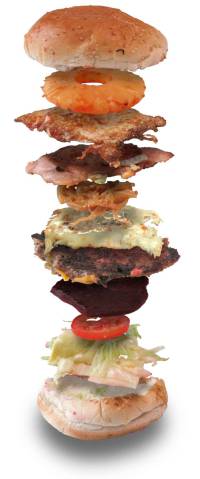 I'm a professional burger connoisseur and advisor. Not professional in the sense that I am paid for it, nor is my advice ever formally sought after.
But I do know what a proper hamburger is, and what it isn't. I also know some of the best places around the Canberra region where you can still get it.
So what type of burger is a real Australian hamburger?
In short: it's the Hamburger with the lot. Also known as the "Works Burger" or "Burger with the works".
To qualify, there are some strict rules.
Hamburger with the lot. Rule #1
The first rule to this great burger is in the ingredients. The makeup of a burger must be:
Hamburger bun (soft)

Beef patty (not too thick)

Slice of melted cheese

Cooked onion

Bacon

An egg

Tomato

Lettuce

Beetroot slices

Lightly cooked pineapple ring

Tomato sauce or barbeque sauce
There cannot be any variation to the above in order to be correct, legal and proper.
In the last five years or so there has been a large rise in the amount of burger shops popping up all around the nations capital, chasing the success of brands like Brodburger. They usually sport a theme with theme-named burgers. These shops all sell a variation of the American style burger, an extension or improvement over burgers from fast food joints.
US and traditional Aussie burgers differ greatly. US burgers feature:
Hamburger with the lot. Rule #2
The second rule is in the price.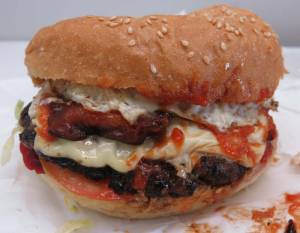 A hamburger with the lot must be sold for around $10.00 in 2022. Some places push to $11.00, which is still acceptable, $12.50 is pushing the absolute limit. Beyond that it's just delusions of grandeur.
In lunch shops and pubs in the suburbs of the capital many are flogging close variants of a burger with the lot (usually missing an ingredient or two) for upwards of around $18. Furthermore, some places have dropped even more ingredients and had the hide to expect $25. And not a single truffle or sheet of gold foil included.
Hamburger with the lot. Rule #3
The third and last rule is the purveyor.
The traditional Australian hamburger with the lot must only be sold in a traditional takeaway, fish and chips shop, truck stop or at a pinch, in a lunch-style cafe. While burgers can be offered at pubs, clubs and restaurants, these are never done in the takeaway style.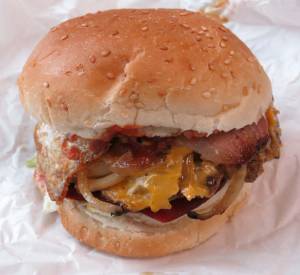 It is generally accepted that the signal for the correct establishment is the presence of a Coca Cola sign out the front. While I am not a supporter of that particular company, it is nevertheless a guiding beacon that the correct burger is available within, and is constructed in the proper way. And if there's a Chico Roll for sale as well, you know you're in the right place.
The hamburger with the lot is a symbol of 20th century Australian town life. Canberra is a place known more for it's lattes and public servants. Any connection to rural culture is minimal at best. That makes finding traditional outposts a rare and more treasured endeavour. Queanbeyan, by it's very nature is much less of a challenge.
If a burger shop labels their product as "World famous", it is not a proper burger. Nor are "Nations Best", "Award Winning", "Region's Finest" or any other claim. A good burger stands purely on it's merits.
The gold standard burger takeaways in Canberra and Queanbeyan
So which are the best takeaways that meet all three criteria: ingredients, price and establishment? This is my top list uncovered so far. And I am always keen for tip-offs.
Yass Road Takeaway in Queanbeyan

AJ's Cafe Take Away in Queanbeyan

Chubbies Takeaway in Queanbeyan

Timbo's Takeaway in Fyshwick (barely hanging in there at $13)

Florey Takeaway in Florey

Seventeen Twist Ngunnawal Takeaway in Ngunnawal

Burger Hero Mitchell Takeaway (in store only) in Mitchell

King Arthur's Feast in Mitchell

Hawker Take Away and Pizza in Hawker
If you are a takeaway owner in the region, please get in touch. I'm happy to come and buy a burger.
I have to pay tribute to the Sunrise Cafe that existed in the centre of Civic Canberra for around half a century and was the last bastion of hope in the city until a few years ago. The food, the company and the decor were all friendly and authentic. I hope the owner is still doing well today. The shop was replaced with, as is often the case: a dispenser of cappuccinos.
Parting words
Drop by a takeaway today when you find one, greet the purveyor and let him know you wish to sample his fine wares, but for $11.00 and not a penny more. To eat one is a challenge of dexterity and balance: the beetroot and tomato will fall out the side, the bun will disintegrate, and juice and egg will run down your arm. But that's the way it's meant to be.
Although my patriotism continues to steadily oxidize, there are still things worth saving in our towns and small cities: like the humble takeaway; and it's most excellent hamburger with the lot.
Links
To understand the culture and significance of the great Australian takeaway, there is no better resource than the book: The MILK BARS Book by Eamon Donnelly, which is sadly out of print. But it does the topic much more justice than I can. Thanks to my mate Treb for finding this for me.
Headline image
For those interested in the headline graphic for this article, this was a burger purchased from Florey. It was deconstructed and photographed in the "studio" before being produced using GIMP 2.10. It was reassembled and eaten.