SSD1306 and SSD1315 oLED Modules for the Pi1541
As mentioned in my previous article, while building the Pi1541, I had a lot of difficulty getting the oLED module to work.
I blamed it on the fact I had accidentally purchased an SSD1315 instead of an SSD1306.
---
Building the Pi1541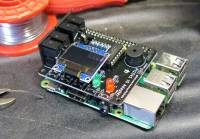 I first heard about the Pi1541 created by Steve White on Chicken Lips Radio. There had been other solutions in the past for hooking up an SD card to a C64/128 but nothing for the average hacker that would fully emulate a 1541 or daily chain to another real 1541.
Discovering that this project ran bare metal on the Raspberry Pi without any underlying OS was impressive to say the least, exactly what I was hoping someone would eventually produce.
I figured I could build this on perf board easily enough.